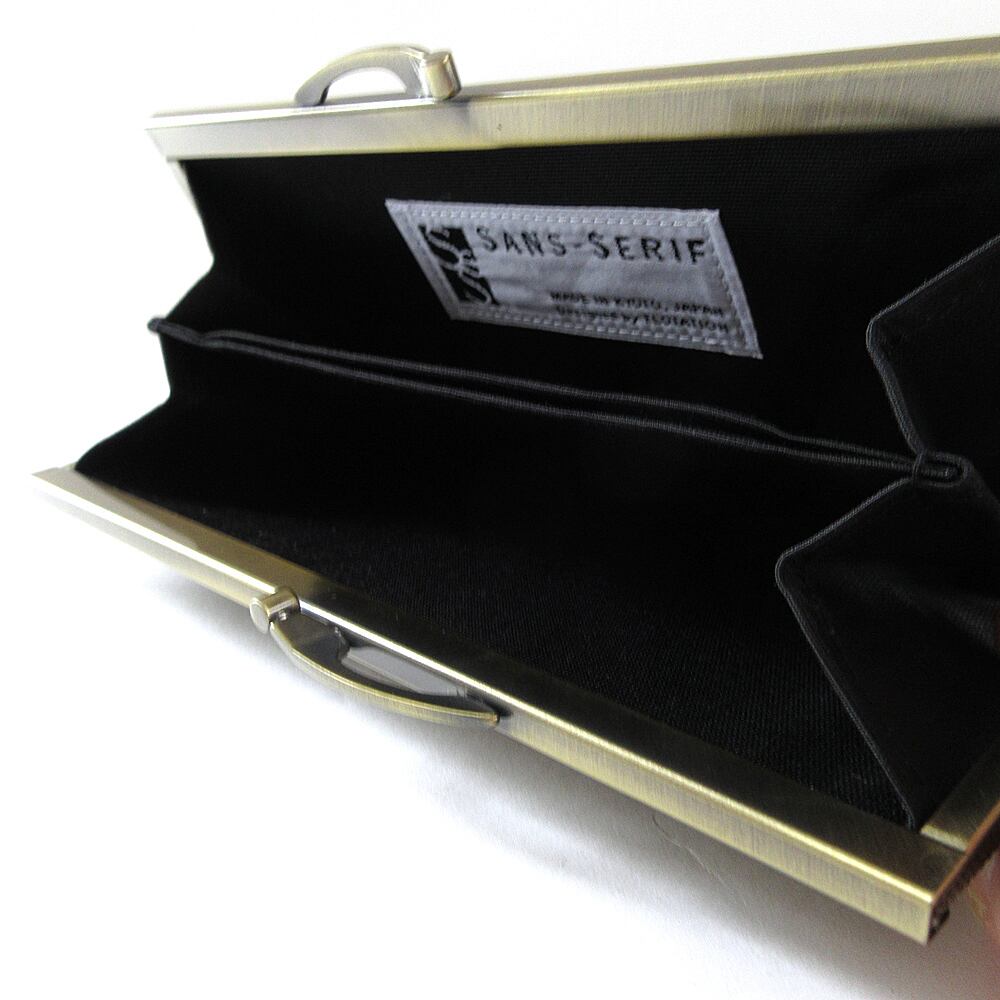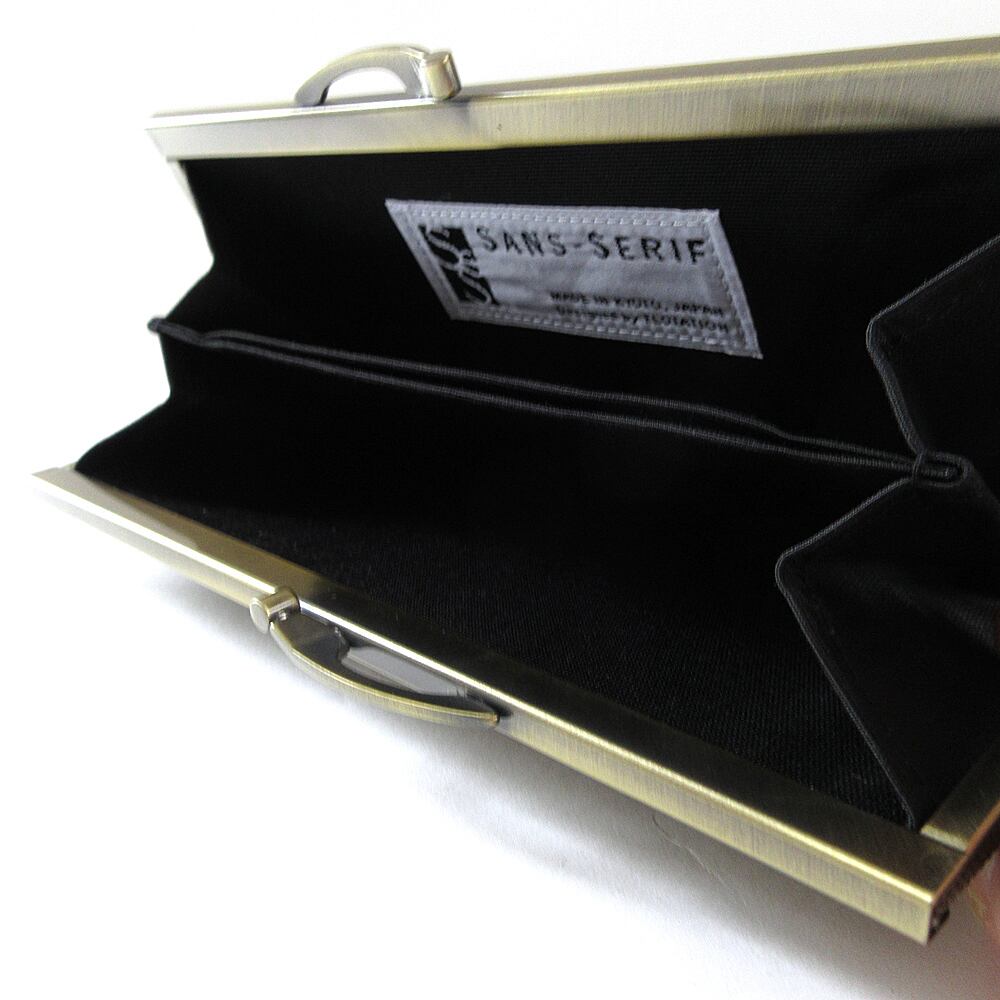 長財布 ガマ口 (デニム)

SANS-SERIF ガマ口 長財布 の特徴は、イギリス・ロンドンバスで実際に使用された、タイベック製のデスティネーションサイン(バスの前面で回転して変わる、行き先案内表示の生地)と、高品質な滋賀県産 高島帆布を素材にし、京都のガマ口職人熟練の技によって、1つずつ手作業で丁寧に縫い上げる、世界に一つしか無い一点物のアイテムです。

無駄の無いスリムでシンプルなスタイルのお札入れ。クラッチバッグや和装用のバッグやなど、サイズ感が小さい薄いバッグに収納してもかさばらずに隙間に入ります。大容量では無いものの、お札、小銭、カード、レシート、チケットも整理して入れられ、仕切りがあることによって、小銭やカードも取り出しやすい実用的な財布です。

・タイベック内側に耐久性を高めるために不織布を手貼りで補強
・内側は3つのポケットに仕切りで分かれています
・扇マチなので、広げやすく、中も見やすい
・パチンとしっかり閉まる特徴的なスマートな口金デザイン
・好きな根付やストラップをつけてカスタマイズできる根付カン

サイズ:H10.5 × W19.5 × D1.8cm
材質:綿 100%、タイベック 裏地レーヨン
生産国:日本

《ご購入に関しての注意》
・当時の産業資材をリユースしていますので、表面クリーニングはしておりますが、シミ、汚れ等が残っている場合があります。これらも敢えてデザイン上の風合いの一部としてそのまま残しております。
・タイベックの白い素地の部分は、摩擦によって繊維が起毛します。
・湿度の高い場所での、長時間の保管はご遠慮くださいませ。サビの原因となります。
・口金と袋を、専用の紙紐で固定させていただいております。紙素材のため、水に弱く、丸洗いなどはご遠慮ください。


Frame Purse Long Wallet / Denim

The features of the SANS-SERIF Gamaguchi Oblong Wallet are the Tyvek Destination Sign (the fabric that turns on the front of the bus to show the destination) that was actually used in London buses, UK, and the high-quality Shiga-made Takashima Sail Cloth, which is carefully hand-sewn one by one by skilled Gamaguchi craftsmen in Kyoto Prefecture. This is a unique item in the world.

This is a slim and simple wallet with no waste. Even if you store it in a thin bag with a small size such as a clutch bag or a bag for Japanese wear, it will fit in the space without being bulky. This is a practical wallet that can store bills, coins, cards, receipts cards, receipts, and tickets in order. The partition makes it easy to take out coins and cards.

・The inside of the Tyvek is reinforced by hand with non-woven fabric to enhance durability.
・The inside is divided into 3 pockets.
・The fan-shaped gusset makes it easy to spread and to see inside.
・Distinctive smart cap design that snaps securely
・Can be customized with your favorite netsuke or strap.

Size : Width 19.5 x Depth 1.8 x Height 10.5 cm
Weight : Approx. 145g
Material : Cotton 100%, Tyvek Lining Rayon
Country of Origin : Japan

《Notes on Purchasing》
Since the industrial materials of that time are reused, the surface is cleaned, but stains and dirt may remain. These are left as they are as part of the design texture.
・The white base of the Tyvek fabric is raised by friction.
・Please do not store for a long time in a place with high humidity. It may cause rust.
・The cap and the bag are fixed with a special paper string. Because this product is made of paper, it is vulnerable to water. Please do not wash it whole.
*Earliest delivery date is 12/8(Fri) (may require more days depending on delivery address).
*Tax included.
※別途送料がかかります。送料を確認する
Shipping method / fee
この商品の送料・配送方法は下記のとおりです。
Japan domestic shipping fees for purchases over ¥30,000 will be free.
ゆうパック小

Tohoku

Aomori,

Iwate,

Miyagi,

Akita,

Yamagata,

Fukushima

Kanto

Ibaraki,

Tochigi,

Gumma,

Saitama,

Chiba,

Tokyo,

Kanagawa,

Yamanashi

Hokuriku

Toyama,

Ishikawa,

Fukui

Tokai

Gifu,

Shizuoka,

Aichi,

Mie

Kinki

Shiga,

Kyoto,

Osaka,

Hyogo,

Nara,

Wakayama

Chugoku

Tottori,

Shimane,

Okayama,

Hiroshima,

Yamaguchi

Shikoku

Tokushima,

Kagawa,

Ehime,

Kochi

Kyushu

Fukuoka,

Saga,

Nagasaki,

Kumamoto,

Oita,

Miyazaki,

Kagoshima
この商品の送料・配送方法は下記のとおりです。
EMS small size

記載していない国への発送はできません。

Asia

Oceania

North / Central America

Middle East

Europe

South America

Africa

Other areas
*Japan domestic shipping fees for purchases over ¥30,000 will be free.
※この商品は海外配送できる商品です。