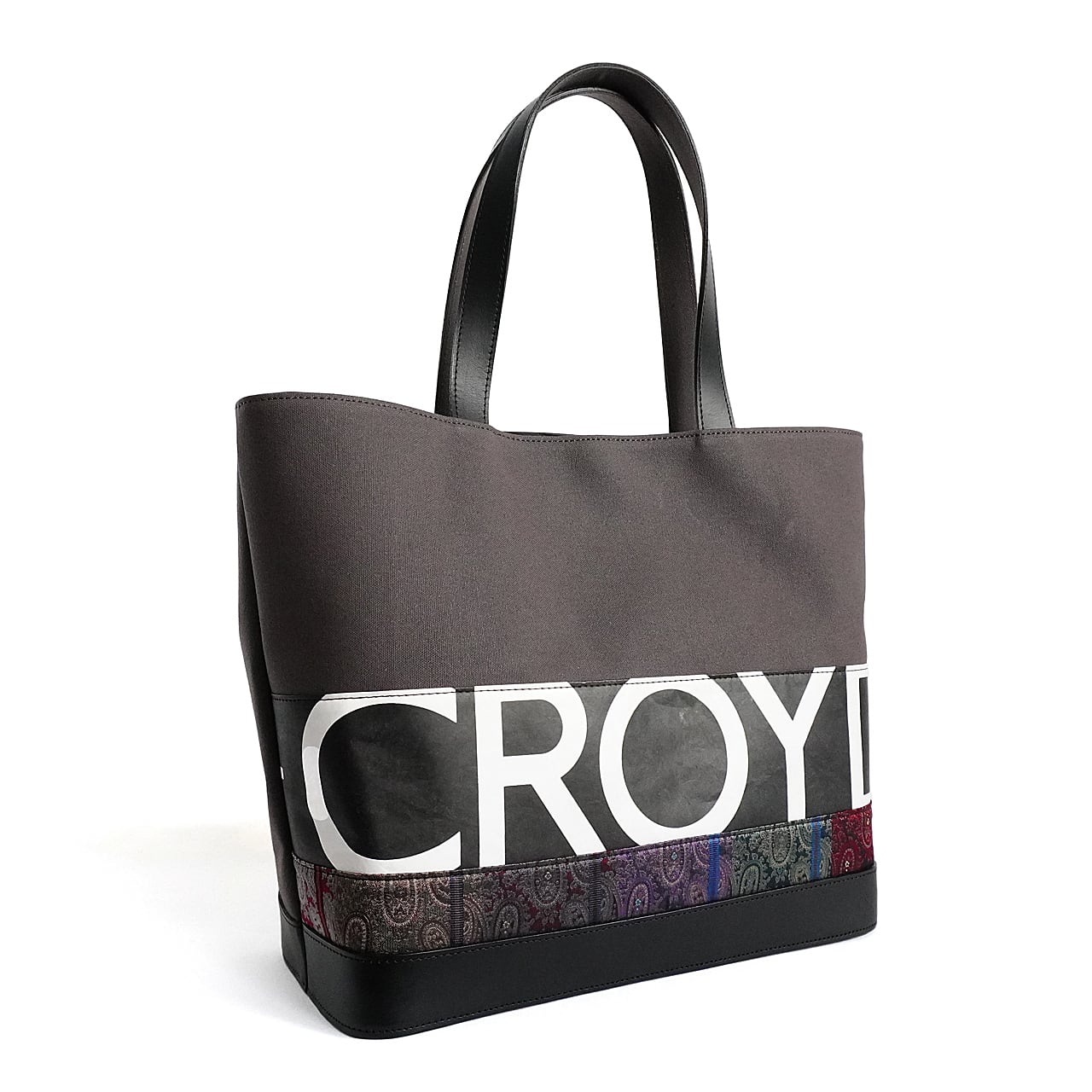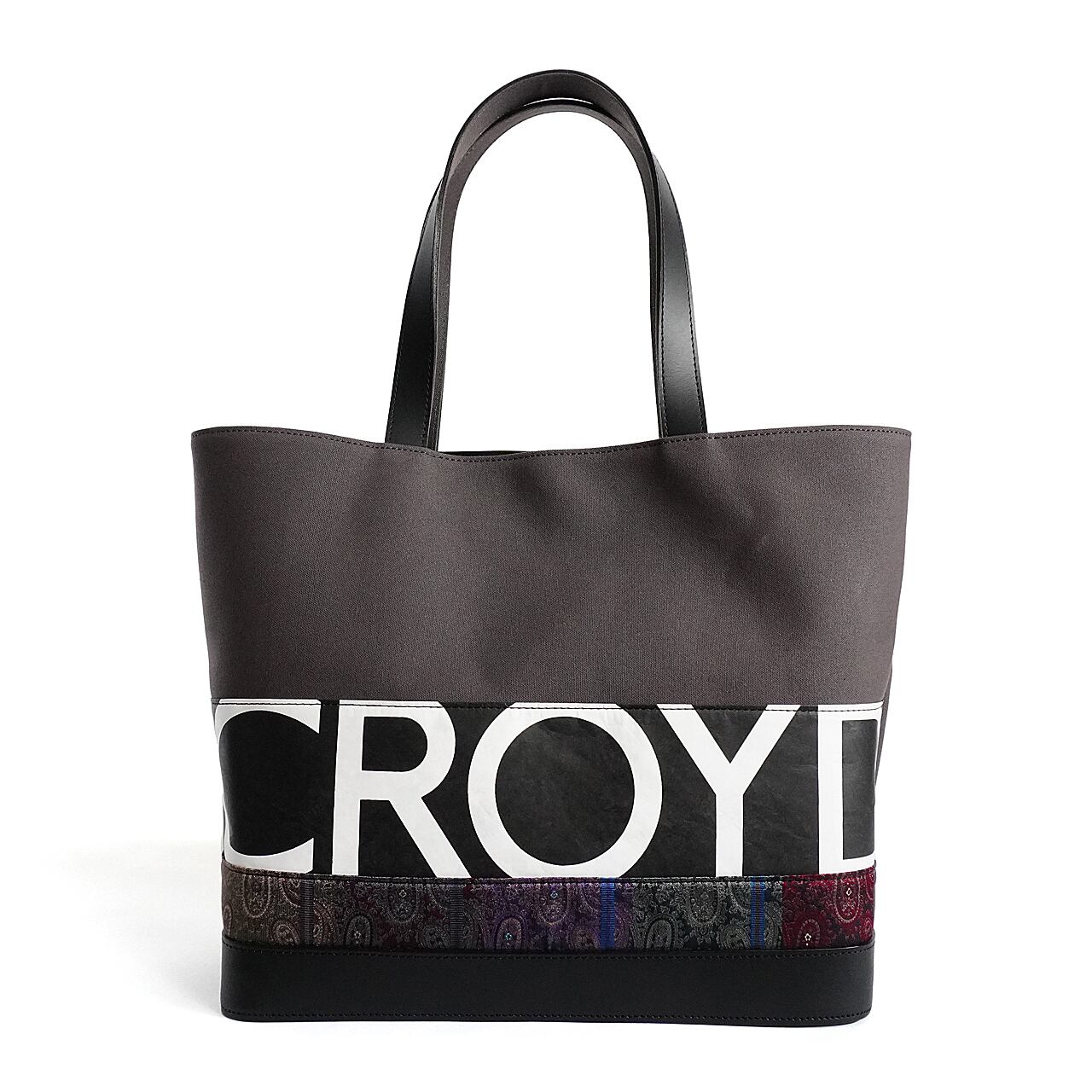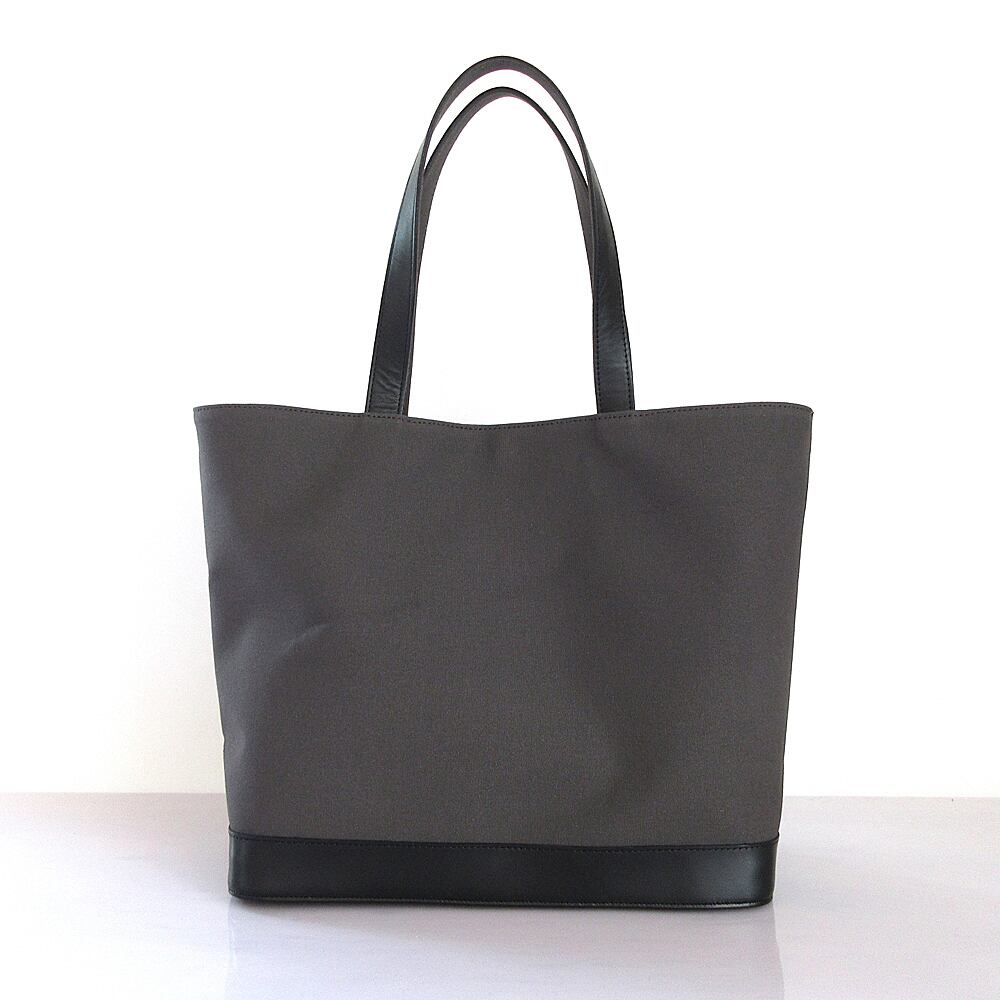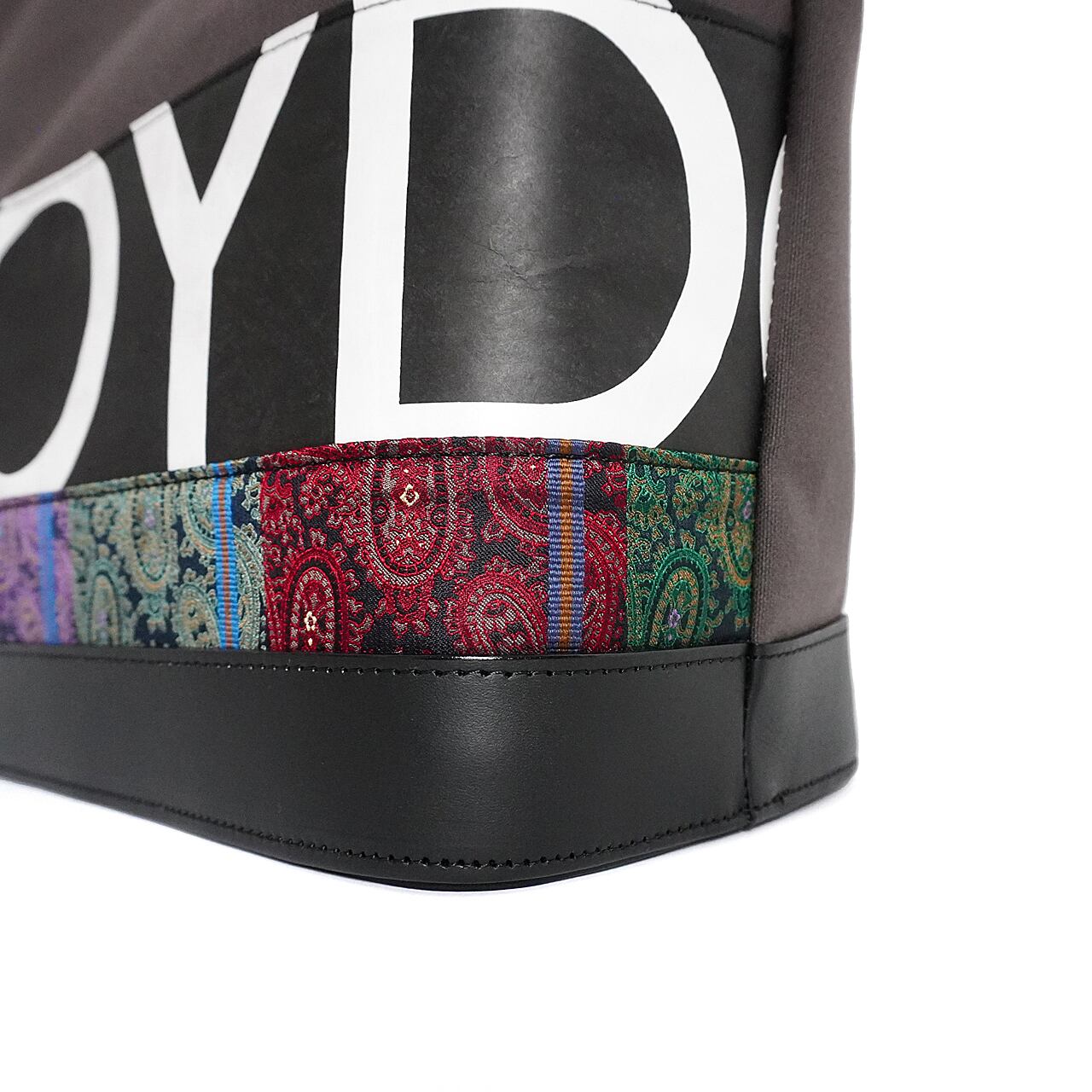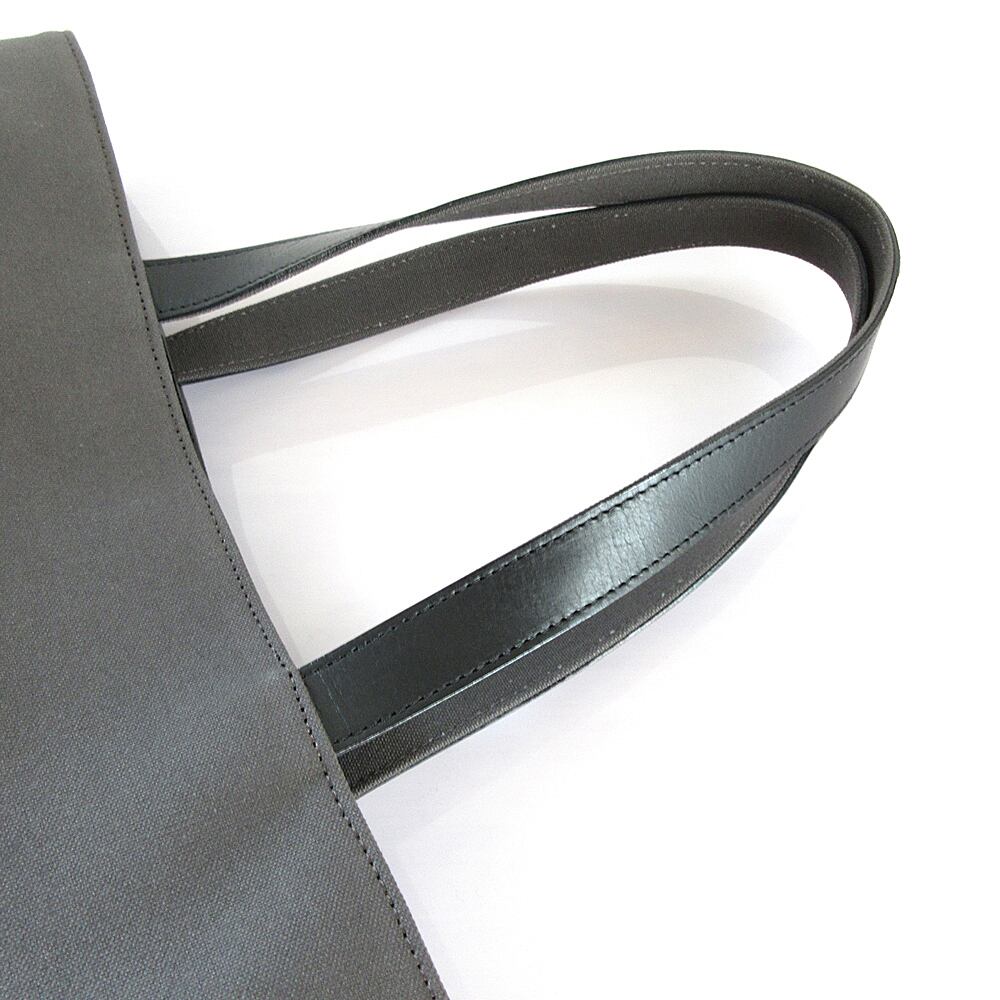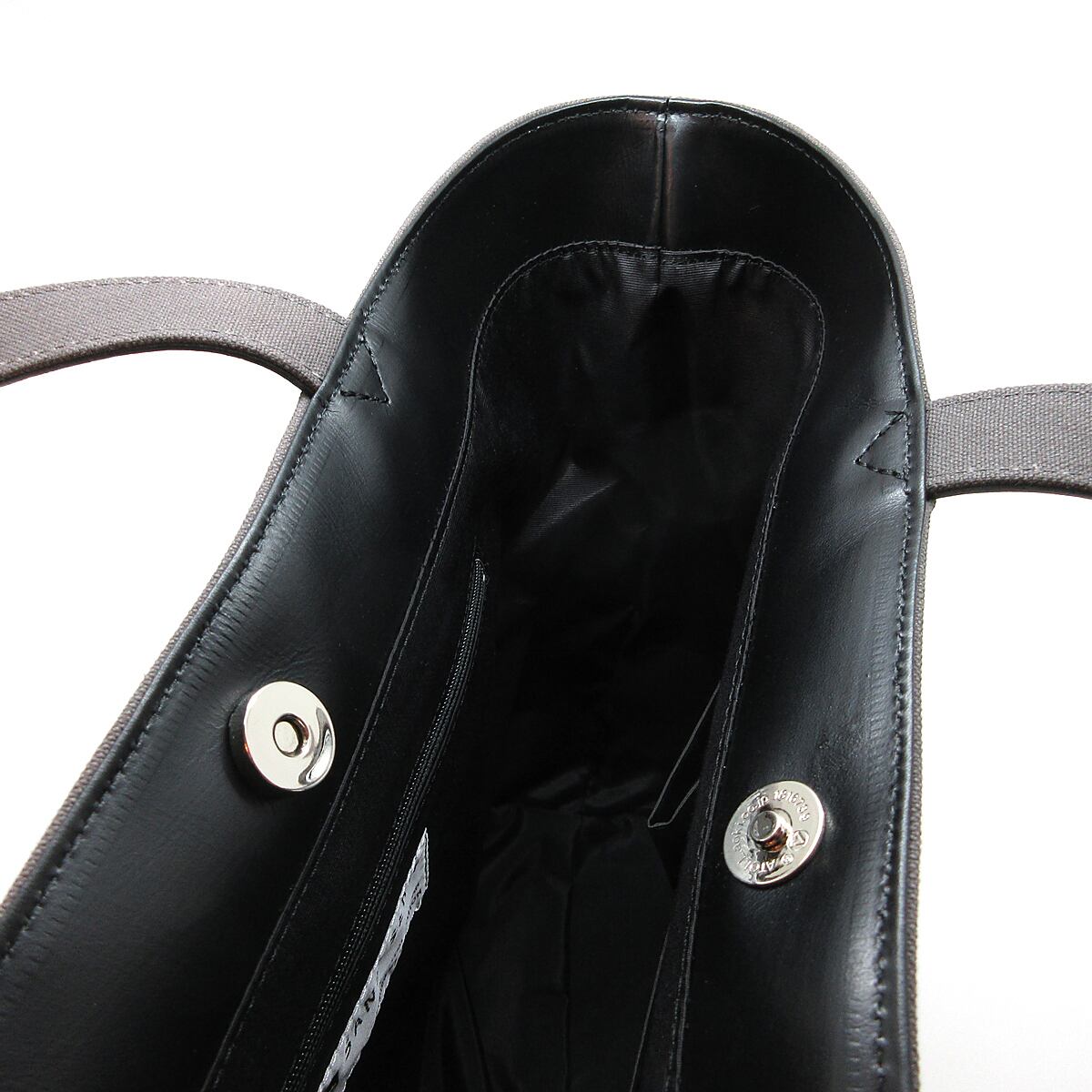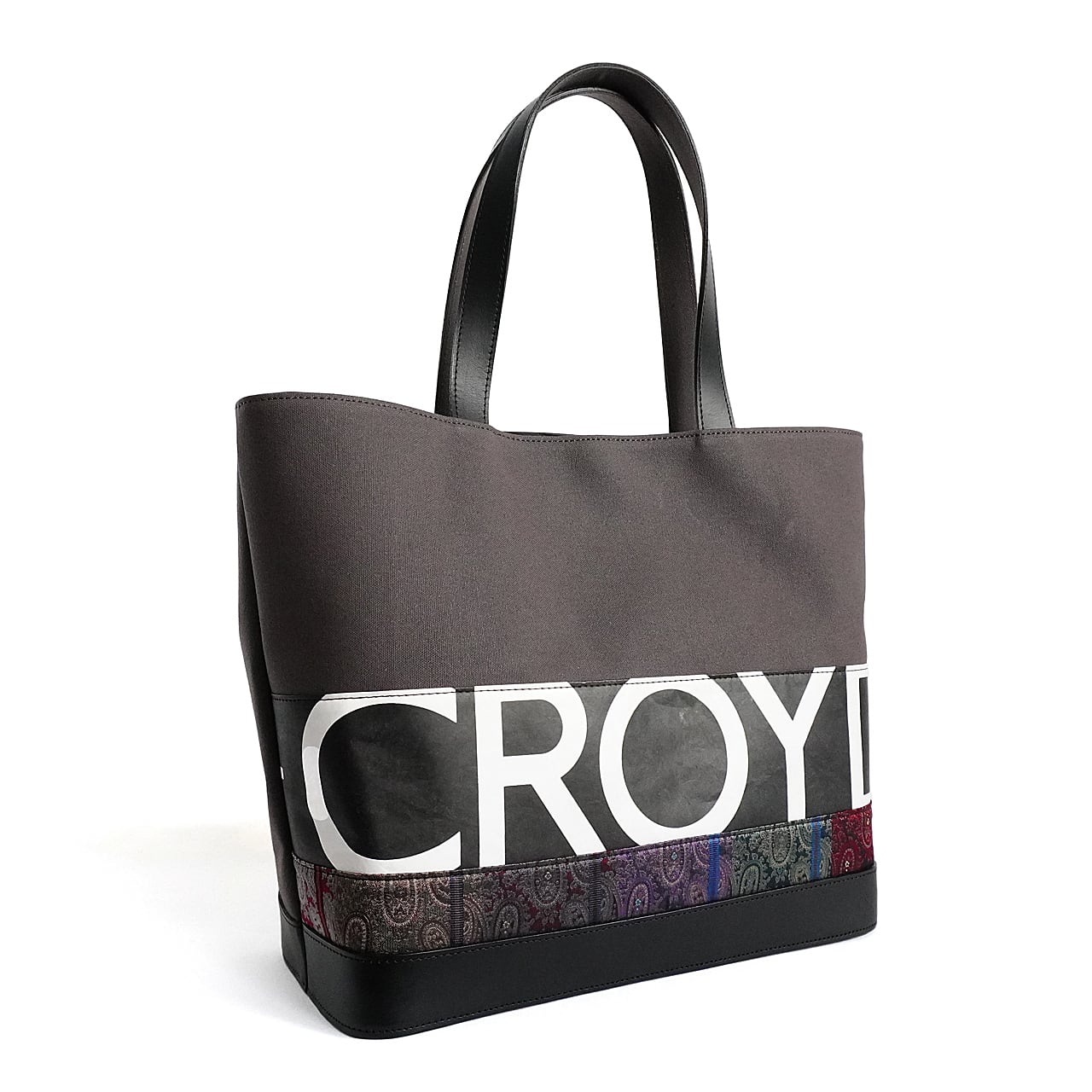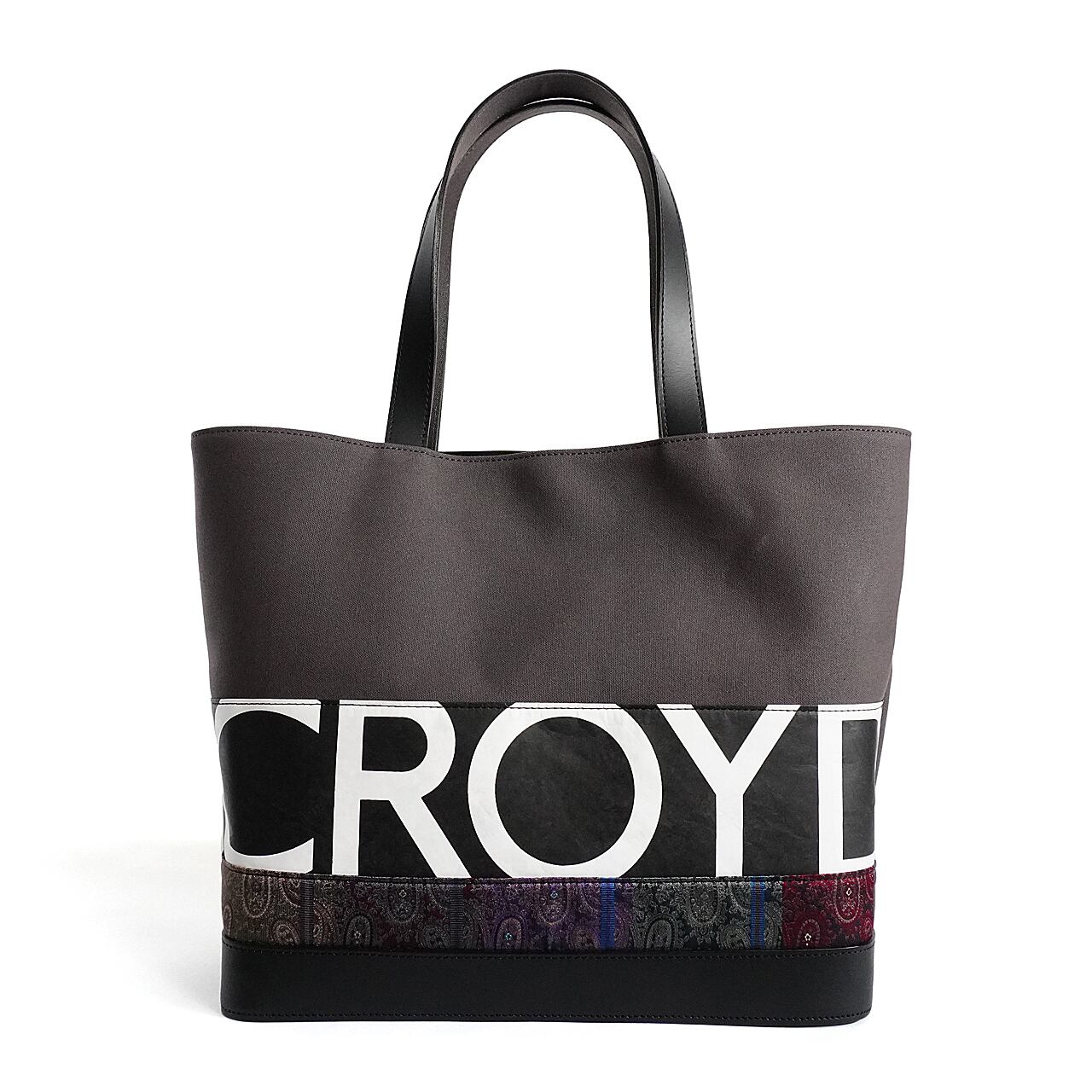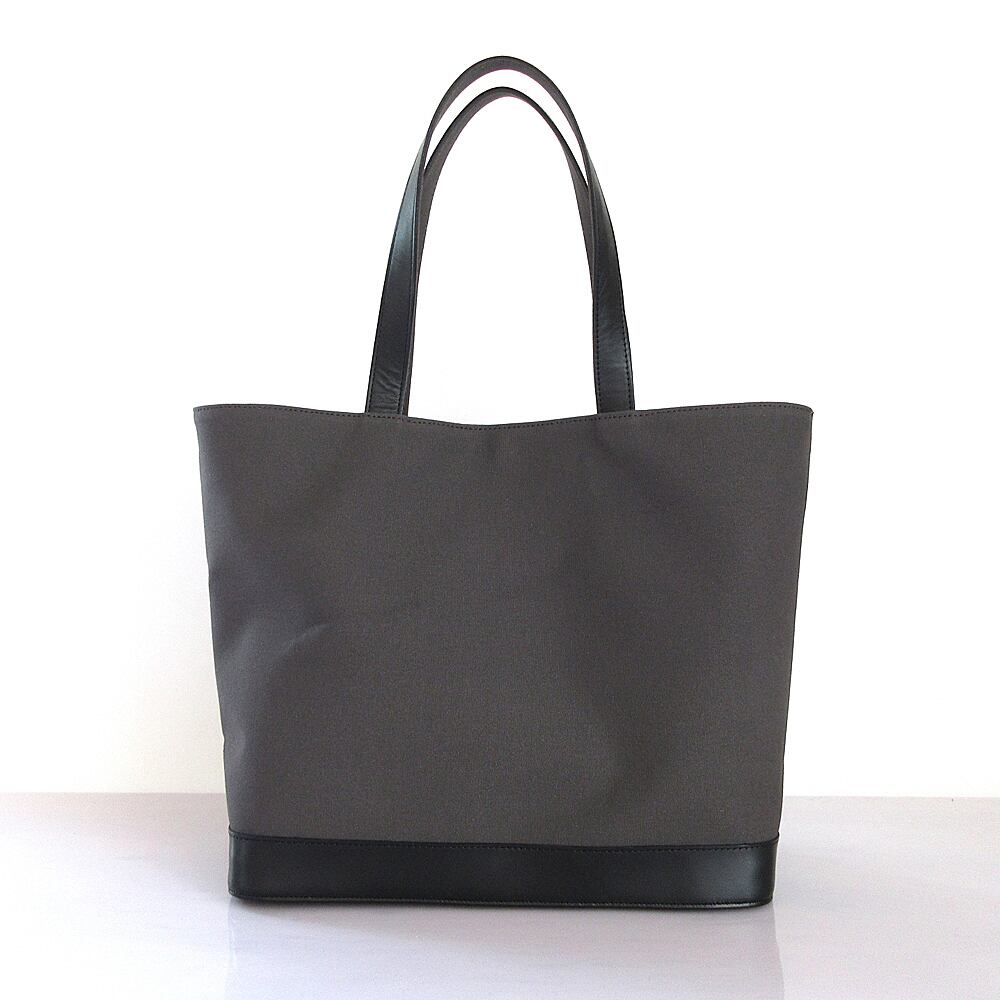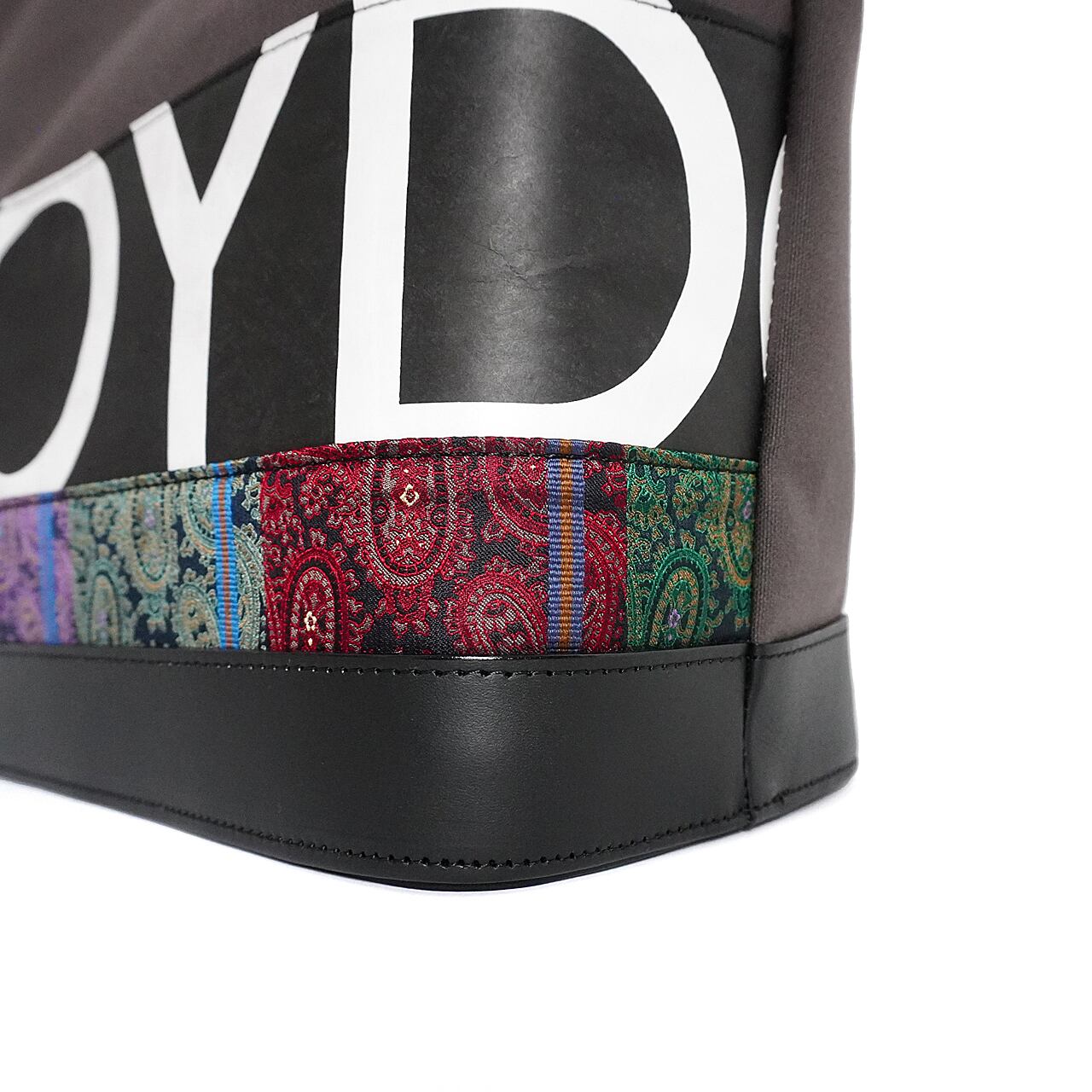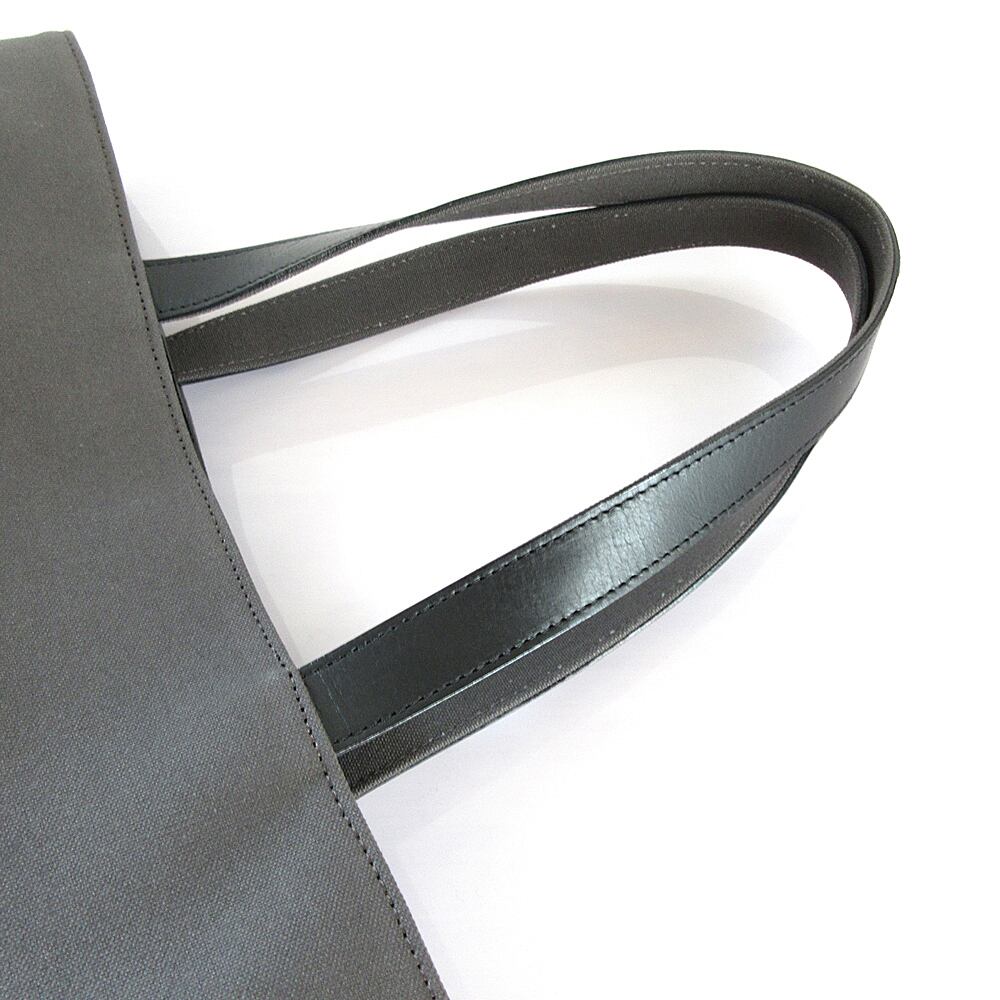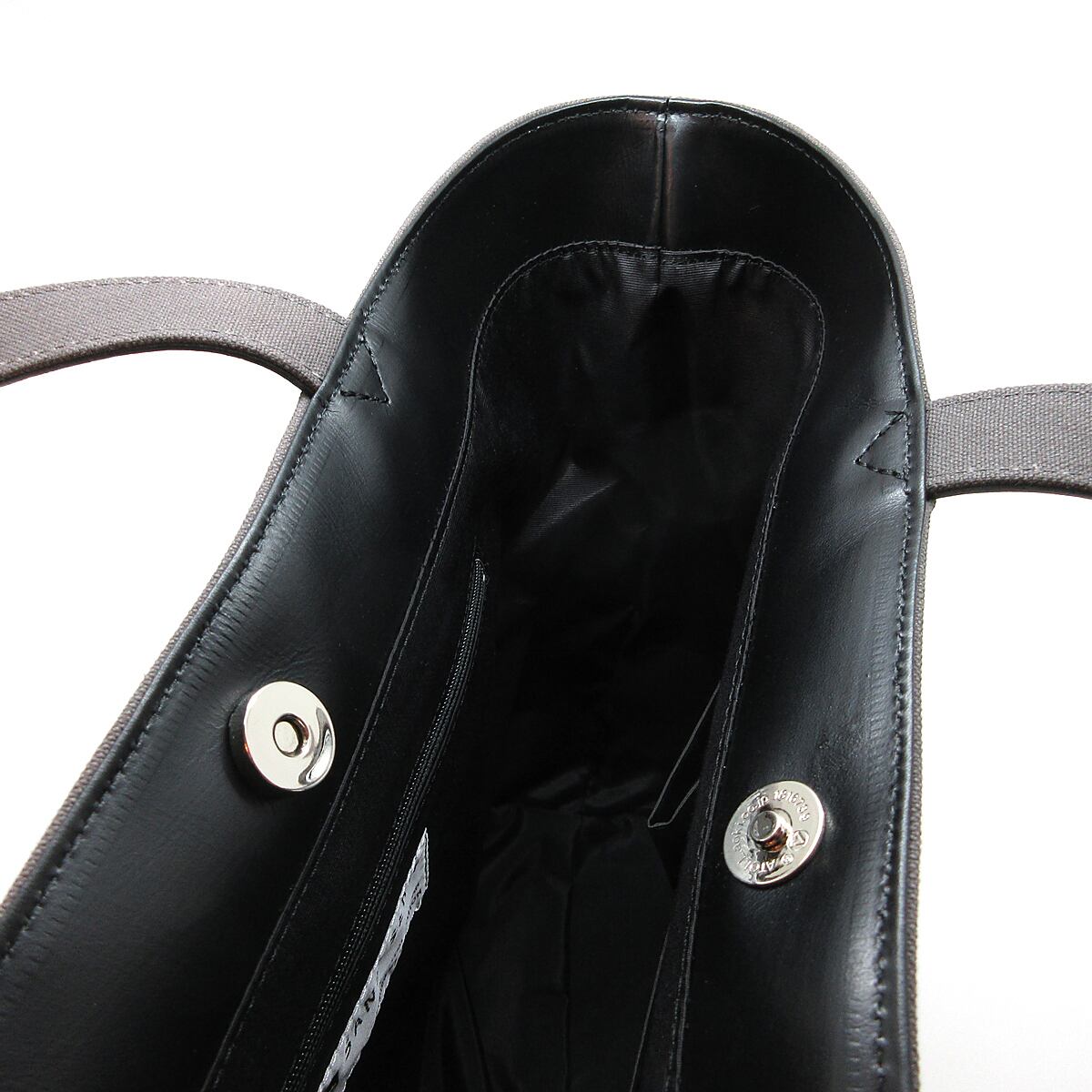 トートバッグ (S) / スモーク

SANS-SERIFバッグの特徴は、イギリス・ロンドンバスで実際に使用された、タイベック製のデスティネーションサイン(バスの前面で回転して変わる行き先案内表示)と高品質な国産帆布を素材にし、京都の鞄職人よる縫製技術によって、1つずつ手作業で丁寧に縫い上げる一点物のバッグです。

SANS-SERIFのアイコン的商品として初期から作り続けているSサイズの定番トート。普段使いにちょうど良いサイズのバッグです。しっかりした帆布と内側の革張り、革の上げ底によって、床に置いてもストンと自立する成型になっています。重厚感のある見た目の割には意外と軽量の使いやすいトートです。
上段にはコレクタブルな実物バスロールサイン生地、下段には80年代に製造されたシルク製の西陣織ヴィンテージネクタイ生地の希少な試験織見本を使用しています。ネクタイを商品化する手前で配色を確認するために出される一点物の見本生地です。

・立体感を保つための型崩れを防止する上げ底加工
・強度を高めるために帆布の裏地に綿オックス生地を縫製
・タイベック内側に耐久性を高めるために不織布を手貼りで補強
・持ち手/底面/内側上に姫路のタンナーが鞣す厳選した牛革を使用 
・底には尖った物などによる破けを防ぐ厚手の底板ベルポーレンを内蔵
・負荷がかかる箇所に長く使い続けるための補強を施す
・オープンポケット/ファスナーポケット

サイズ:H31 × W35 × D15cm 持手 H20cm
重さ:約500g
材質:綿 100%、タイベック、牛革、裏地レーヨン 100%
生産国:日本


《ご購入に関しての注意》
当時の産業資材をリユースしていますので、表面クリーニングはしておりますが、シミ、汚れ等が残っている場合があります。これらも敢えてデザイン上の風合いの一部としてそのまま残しております。繊細なプロダクトですので、洗濯は型くずれの原因にもなることから、原則お勧めいたしておりませんが、帆布生地が汚れた場合は、薄めた中性洗剤をつけたやわらかい布で叩いて落としてください。雨・水・汗・摩擦等により色落ち・色移りする事があります。?特に白系等の淡い色の衣服を着用の際にはご注意ください。タイベックは軟化・変形する恐れがありますので、ストーブ等の火のそばや高温になる所に置かないで下さい。?アイロン・ドライヤーは使用しないで下さい。?光(紫外線)の影響で変色する事があるため日光が当たらない所に保管して下さい。?除菌シートやアルコール消毒薬、ウェットティッシュ、制汗シート等に含まれる アルコール分によって、 染料が剥げたり色落ち、変色のおそれがありますのでご注意ください。タイベックの白素地の部分は摩擦によって繊維が起毛します。


Tote Bag (S) / Smoke

The features of the SANS-SERIF bag are the Tyvek Destination Sign (which turns on the front of the bus to indicate the destination) that was actually used in London buses, UK, and the high-quality Canvas made in Japan, which is carefully hand-sewn one by one by the techniques of Kyoto bag craftsmen.

This is a standard S size tote bag that has been made from the beginning as an iconic product of SANS-SERIF. This bag has a perfect size for daily use and is easy to put in a bicycle basket. With a sturdy canvas, leather lining inside, and a raised bottom of leather, it is molded so that it can stand on its own even placed on the floor. This is an easy-to-use tote bag that is surprisingly light for its heavy look.
The top row is made of collectible actual bus roll sign fabric, and the bottom row is made of color sample fabric, one of the rarest Nishijin textile vintage ties produced in the 1980s.

・Raised bottom processing to prevent the shape from collapsing to maintain a three dimensional feel
・In order to increase the strength, cotton oxford cloth is sewn on the canvas lining.
・The inside of the Tyvek is reinforced by hand with non-woven fabric to enhance durability.
・Uses carefully selected cowhide tanned by Himeji tanner on the handle / bottom / inside.
・The bottom is equipped with a thick bottom plate Sanparu to prevent it from being torn by pointed objects.
・Reinforcement is applied to the place where the load is applied for a long time.
・Open pocket / zipper pocket

Size : Width 35 x Depth 20 x Height 32 cm Carrying Height 15 cm
Weight : Approx. 500g
Material : Cotton 100%, Tyvek, Cowhide, Lining Rayon 100%
Country of Origin : Japan

《Notes on Purchasing》
As industrial materials from those days are reused, the surface has been cleaned, but stains, dirt, etc. may remain. We dare to leave these as they are as part of the design texture. However, if the canvas fabric becomes soiled, please pat it down with a soft cloth dampened with diluted neutral detergent. Colour fading and colour migration may occur due to rain, water, perspiration and friction.?Be particularly careful when wearing light-coloured clothing such as white. Tyvek may soften or deform, so do not place near a fire such as a stove or in a high-temperature area.?Do not use an iron or hairdryer.?Store out of sunlight or fluorescent light as light (ultraviolet rays) may cause discolouration.?Please note that the alcohol content in disinfectant sheets, alcohol disinfectants, wet wipes, antiperspirant sheets, etc. may cause the dye to peel, the colour to fade or discolour. ?The fibres of the white Tyvek fabric will become bristly due to friction.
*Earliest delivery date is 12/8(Fri) (may require more days depending on delivery address).
*Tax included.
※別途送料がかかります。送料を確認する
Shipping method / fee
この商品の送料・配送方法は下記のとおりです。
Japan domestic shipping fees for purchases over ¥30,000 will be free.
ゆうパック 中

Tohoku

Aomori,

Iwate,

Miyagi,

Akita,

Yamagata,

Fukushima

Kanto

Ibaraki,

Tochigi,

Gumma,

Saitama,

Chiba,

Tokyo,

Kanagawa,

Yamanashi

Hokuriku

Toyama,

Ishikawa,

Fukui

Tokai

Gifu,

Shizuoka,

Aichi,

Mie

Kinki

Shiga,

Kyoto,

Osaka,

Hyogo,

Nara,

Wakayama

Chugoku

Tottori,

Shimane,

Okayama,

Hiroshima,

Yamaguchi

Shikoku

Tokushima,

Kagawa,

Ehime,

Kochi

Kyushu

Fukuoka,

Saga,

Nagasaki,

Kumamoto,

Oita,

Miyazaki,

Kagoshima
この商品の送料・配送方法は下記のとおりです。
EMS Large size

記載していない国への発送はできません。

Asia

Oceania

North / Central America

Middle East

Europe

South America

Africa

Other areas
*Japan domestic shipping fees for purchases over ¥30,000 will be free.
※この商品は海外配送できる商品です。