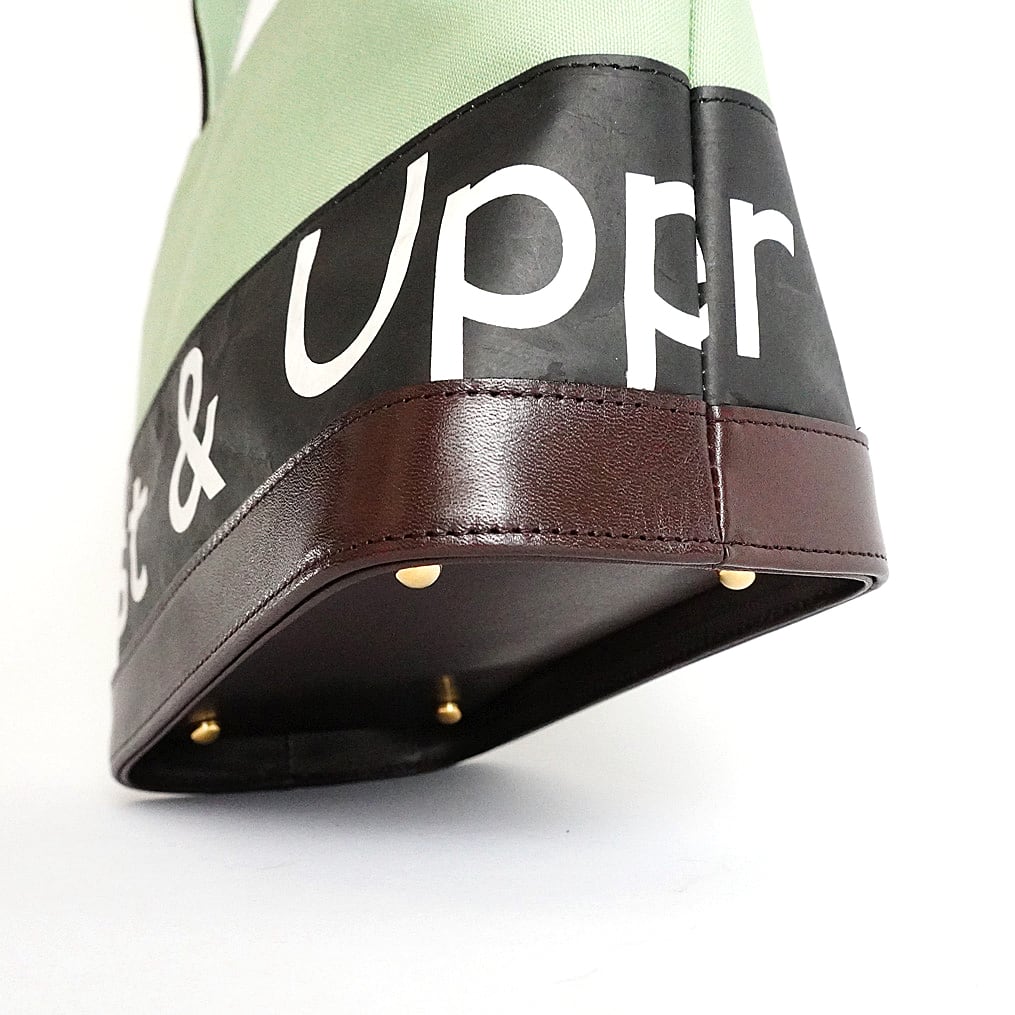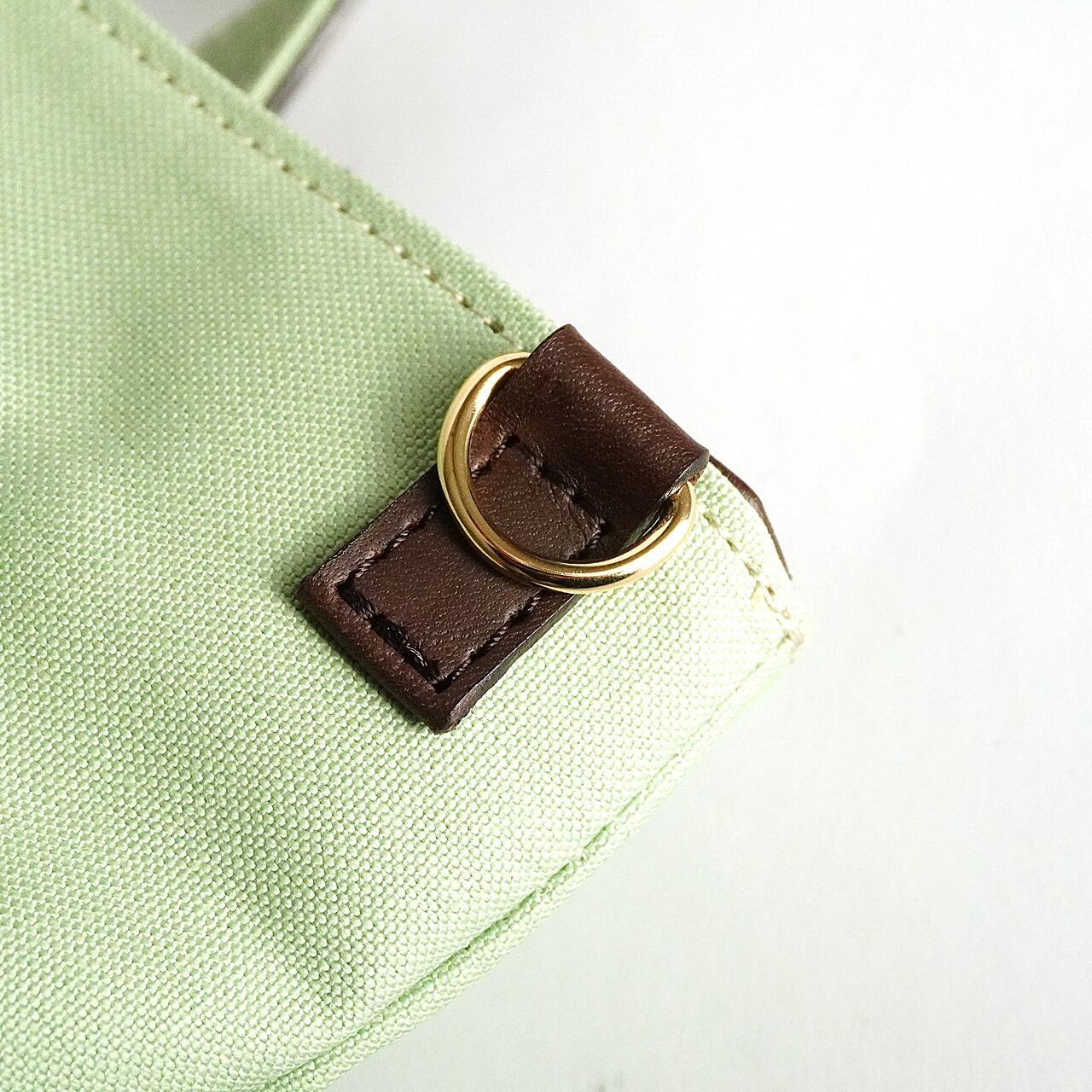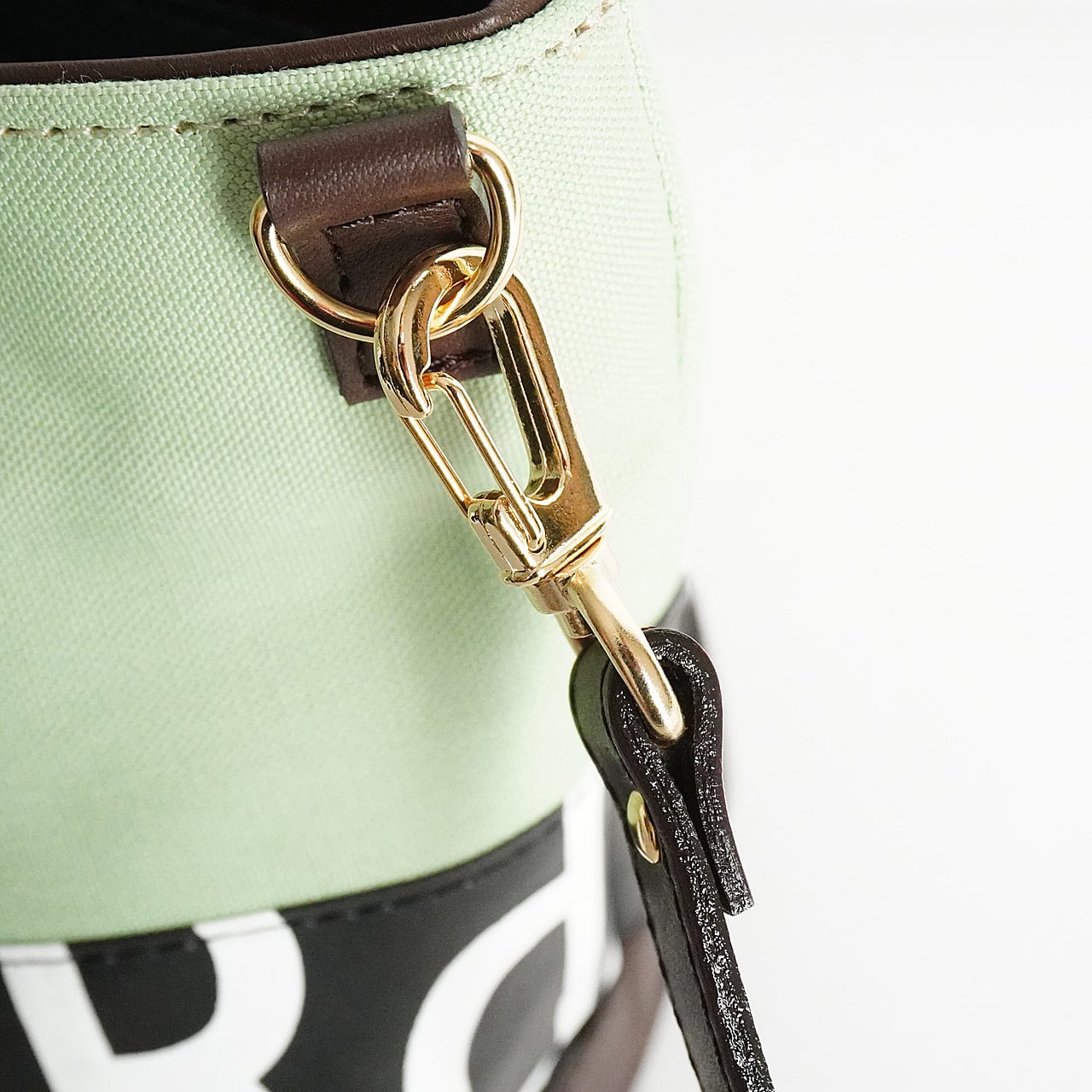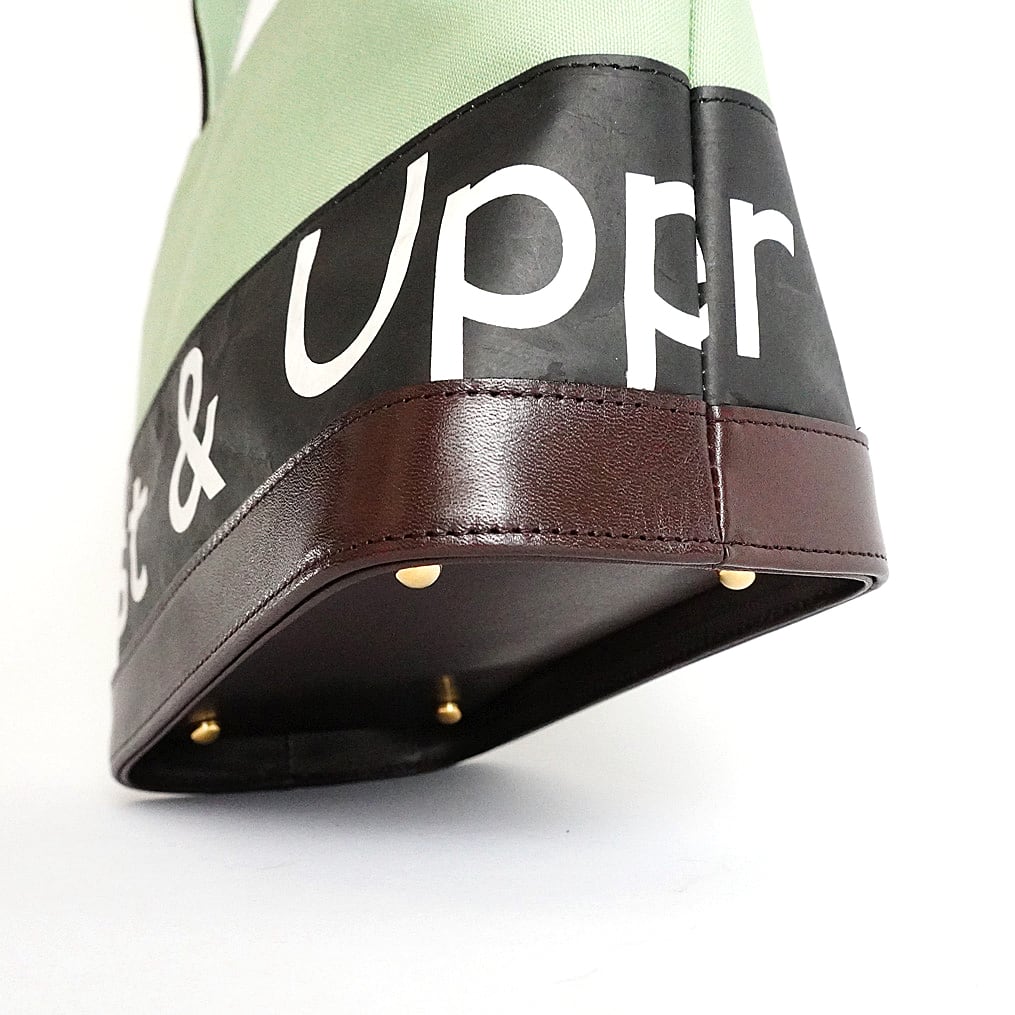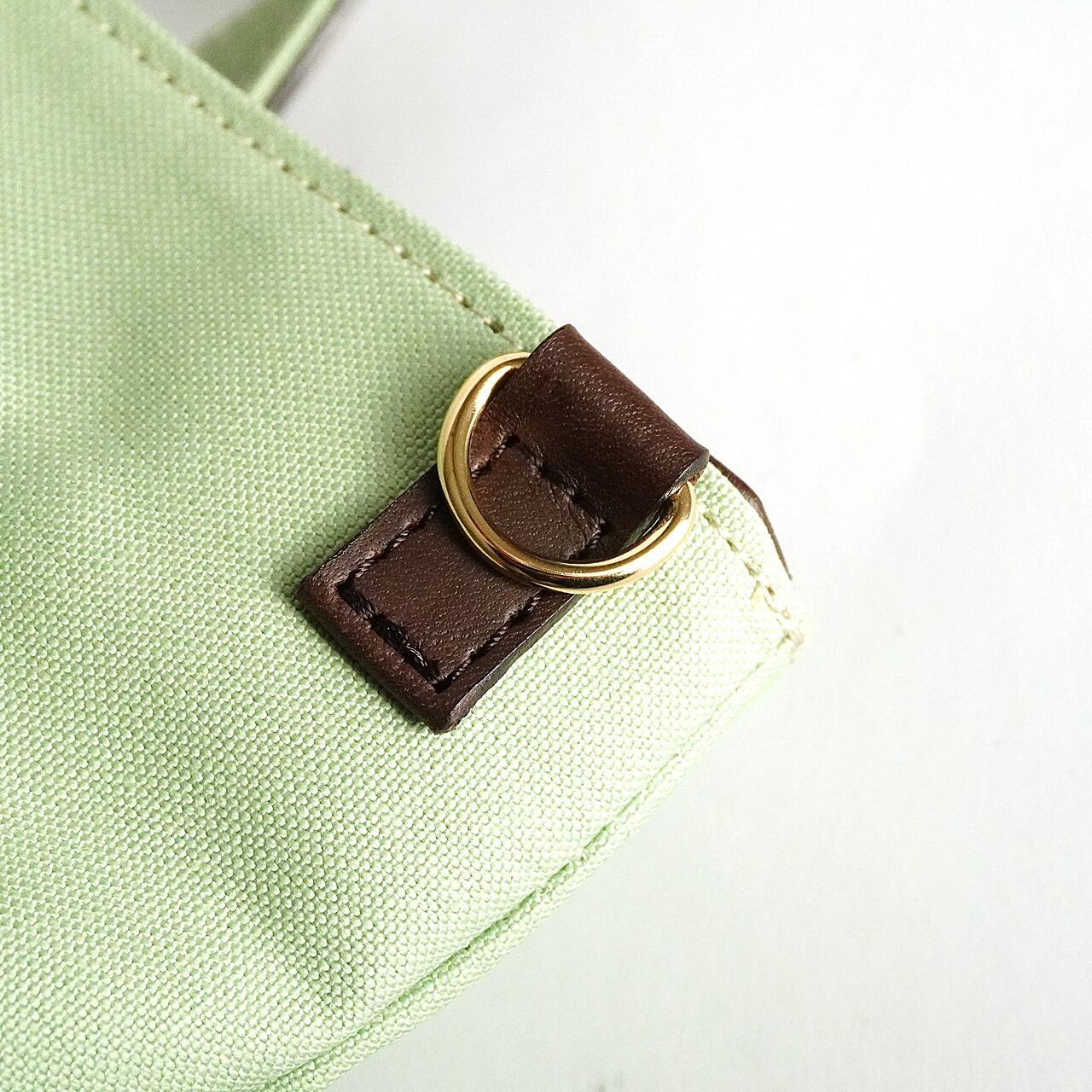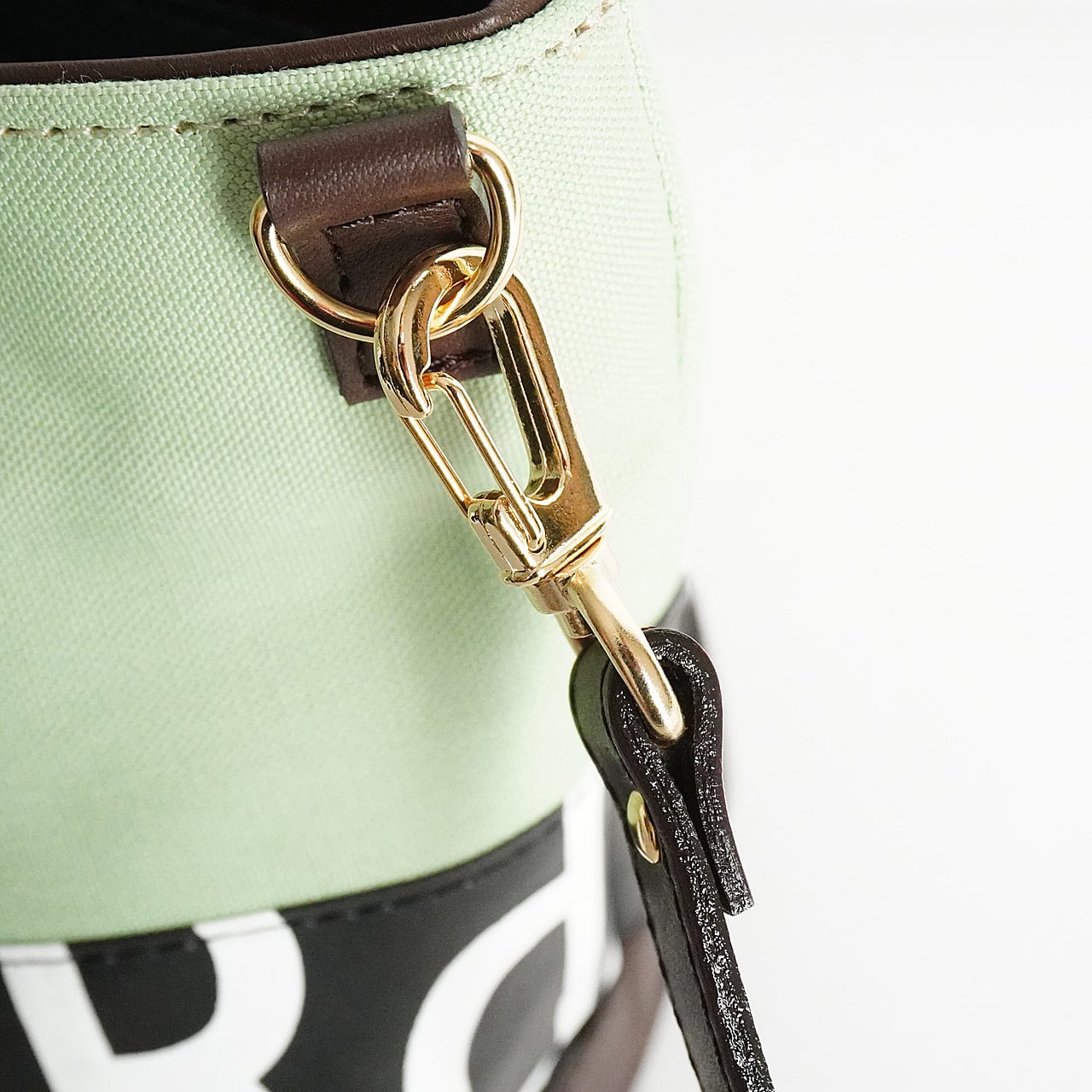 2wayショルダーバッグ / エメラルド

SANS-SERIFバッグの特徴は、英国ロンドンバスで実際に使用されたタイベック製のデスティネーションサイン(バスの前面で回転して変わる行き先案内表示)と高品質な国産帆布を素材にし、京都の鞄職人よる縫製技術によって1つずつ手作業で縫い上げる一点物のバッグです。

ブランドの代表作トート(S)の仕様を全て受け継いだミニサイズの2wayショルダーバッグ "NiJi"。レインボーカラーに因んだネーミングです。モノトーンのミニマルなルックやブリティッシュカジュアル風のコーディネートなど自由に合わせてお楽しみください。可愛いい外観だけではなく堅牢性を考えて作った本体。ショルダーストラップは本体で使用している牛革と同じ材質で仕上げSANS-SERIFシンボルマークをエンボスで型押しました。

立体感を保つための型崩れしを防止する上げ底加工
強度を高めるために帆布の裏地には綿オックス生地を重ねて縫製
タイベック製バスサイン内側に耐久性を高めるために不織布を手貼りで補強
持ち手/底面/内側上に姫路のタンナーが鞣す厳選した牛革を使用 
底には尖った物などによる破けを防ぐ厚手の底板ベルポーレンを内蔵
オープンポケット/ファスナーポケット

サイズ:H18 × W21 × D11cm 持手 H10cm ストラップ 100cm
重さ:約300g
材質:綿 100%、タイベック、牛革、裏地レーヨン 100%

生産国:日本

《ご購入に関しての注意》
当時の産業資材をリユースしていますので、表面クリーニングはしておりますが、シミ、汚れ等が残っている場合があります。これらも敢えてデザイン上の風合いの一部としてそのまま残しております。繊細なプロダクトですので、洗濯は型くずれの原因にもなることから、原則お勧めいたしておりませんが、帆布生地が汚れた場合は、薄めた中性洗剤をつけたやわらかい布で叩いて落としてください。雨・水・汗・摩擦等により色落ち・色移りする事があります。?特に白系等の淡い色の衣服を着用の際にはご注意ください。タイベックは軟化・変形する恐れがありますので、ストーブ等の火のそばや高温になる所に置かないで下さい。?アイロン・ドライヤーは使用しないで下さい。?光(紫外線)の影響で変色する事があるため日光が当たらない所に保管して下さい。?除菌シートやアルコール消毒薬、ウェットティッシュ、制汗シート等に含まれる アルコール分によって、 染料が剥げたり色落ち、変色のおそれがありますのでご注意ください。タイベックの白素地の部分は摩擦によって繊維が起毛します。


NiJi 2way Shoulder / Emerald

The features of the SANS-SERIF bag are the Tyvek Destination Sign (which turns on the front of the bus to indicate the destination) that was actually used in London buses, UK, and the high-quality Canvas made in Japan, which is carefully hand-sewn one by one by the techniques of Kyoto bag craftsmen.

The "NiJi" is a miniature 2-way shoulder bag that inherits all the specifications of the brand's iconic tote (S). We named it after the rainbow color. You can enjoy it as a cool monotone look or a British casual look. Not only does it have a cute appearance, but it also has a robust body. The shoulder strap is made of the same material as the cowhide leather used for the main body, with the brand symbol embossed on it.

・Raised bottom processing to prevent the shape from collapsing to maintain a three dimensional feel
・In order to increase the strength, cotton oxford cloth is sewn on the canvas lining.
・The inside of the Tyvek is reinforced by hand with non-woven fabric to enhance durability.
・Uses carefully selected cowhide tanned by Himeji tanner on the handle / bottom / inside.
・The bottom is equipped with a thick bottom plate Bellpollen to prevent it from being torn by pointed objects.
・Open pocket / zipper pocket

Size : Width 21 x Depth 11 x Height 18 cm Carrying Height 10 cm Shoulder Strapt 100 cm
Weight : Approx. 300g
Material : Cotton 100%, Tyvek, Cowhide, Lining Rayon 100%
Country of Origin : Japan

《Notes on Purchasing》
As industrial materials from those days are reused, the surface has been cleaned, but stains, dirt, etc. may remain. We dare to leave these as they are as part of the design texture. However, if the canvas fabric becomes soiled, please pat it down with a soft cloth dampened with diluted neutral detergent. Colour fading and colour migration may occur due to rain, water, perspiration and friction.?Be particularly careful when wearing light-coloured clothing such as white. Tyvek may soften or deform, so do not place near a fire such as a stove or in a high-temperature area.?Do not use an iron or hairdryer.?Store out of sunlight or fluorescent light as light (ultraviolet rays) may cause discolouration.?Please note that the alcohol content in disinfectant sheets, alcohol disinfectants, wet wipes, antiperspirant sheets, etc. may cause the dye to peel, the colour to fade or discolour. ?The fibres of the white Tyvek fabric will become bristly due to friction.
*Earliest delivery date is 10/4(Wed) (may require more days depending on delivery address).
*Tax included.
*Additional shipping charges may apply, See detail..

About shipping fees
The shipping fee for this item varies by the shipping method. Customers can choose the shipping method at time of purchase.
EMS Medium size

Regional setting

Afghanistan

Bangladesh

Bhutan

Brunei

Cambodia

China

Guam

Hong Kong

India

Indonesia

Laos

Macao

Malaysia

Maldives

Marshall Islands

Micronesia, Federated States Of

Mongolia

Myanmar

Nepal

North Korea

Northern Mariana Islands

Pakistan

Palau

Philippines

Singapore

South Korea

Sri Lanka

Taiwan

Thailand

Timor Leste

Vietnam

Australia

Christmas Island

Cocos (Keeling) Islands

Cook Islands

Fiji

French Polynesia

Kiribati

Nauru

New Caledonia

New Zealand

Niue

Norfolk Island

Papua New Guinea

Pitcairn

Samoa

Solomon Islands

Tonga

Tuvalu

Vanuatu

Wallis and Futuna

American Samoa

Anguilla

Antigua and Barbuda

Aruba

Bahamas

Barbados

Belize

Bonaire, Sint Eustatius and Saba

Canada

Cayman Islands

Costa Rica

Cuba

Dominica

Dominican Republic

El Salvador

Grenada

Guadeloupe

Guatemala

Haiti

Honduras

Jamaica

Martinique

Mexico

Montserrat

Netherlands Antilles

Nicaragua

Panama

Puerto Rico

Saint Barthélemy

Saint Kitts and Nevis

Saint Lucia

Saint Martin

Saint Pierre and Miquelon

Saint Vincent and the Grenadines

Sint Maarten

Trinidad and Tobago

Turks and Caicos Islands

U.S. Virgin Islands

United States

Virgin Islands, British

Bahrain

Cyprus

Iran, Islamic Republic Of

Iraq

Israel

Jordan

Kuwait

Lebanon

Oman

Palestinian Territory, Occupied

Qatar

Saudi Arabia

Syria

Turkey

United Arab Emirates

Yemen

Aland Islands

Albania

Andorra

Armenia

Austria

Azerbaijan

Belarus

Belgium

Bosnia and Herzegovina

Bulgaria

Croatia

Czech Republic

Denmark

Estonia

Faroe Islands

Finland

France

Georgia

Germany

Gibraltar

Greece

Greenland

Guernsey

Holy See (Vatican City State)

Hungary

Iceland

Ireland

Isle of Man

Italy

Jersey

Kazakhstan

Kosovo

Kyrgyzstan

Latvia

Liechtenstein

Lithuania

Luxembourg

Malta

Moldova

Monaco

Montenegro

Netherlands

North Macedonia

Norway

Poland

Portugal

Romania

Russia

San Marino

Serbia

Slovakia

Slovenia

Spain

Svalbard and Jan Mayen

Sweden

Switzerland

Tajikistan

Turkmenistan

Ukraine

United Kingdom

Uzbekistan

Argentina

Bolivia

Brazil

Chile

Colombia

Curaçao

Ecuador

Falkland Islands (Malvinas)

French Guiana

Guyana

Paraguay

Peru

Suriname

Uruguay

Venezuela

Algeria

Angola

Ascension Island

Benin

Botswana

Burkina Faso

Burundi

Cameroon

Canary Islands

Cape Verde

Central African Republic

Ceuta and Melilla

Chad

Comoros

Congo

Congo, The Democratic Republic Of The

Côte d'Ivoire

Djibouti

Egypt

Equatorial Guinea

Eritrea

Eswatini

Ethiopia

Gabon

Gambia

Ghana

Guinea

Guinea Bissau

Kenya

Lesotho

Liberia

Libya

Madagascar

Malawi

Mali

Mauritania

Mauritius

Mayotte

Morocco

Mozambique

Namibia

Niger

Nigeria

Reunion

Rwanda

Sao Tome and Principe

Senegal

Seychelles

Sierra Leone

Somalia

South Africa

South Sudan

Sudan

Tanzania

Togo

Tristan da Cunha

Tunisia

Uganda

Western Sahara

Zambia

Zimbabwe

Bermuda

Bouvet Island

French Southern Territories

Heard Island and McDonald Islands

Indian Ocean Territory, British

Saint Helena

South Georgia and the South Sandwich Islands

Tokelau

United States Minor Outlying Islands
*Japan domestic shipping fees for purchases over ¥30,000 will be free.